Intro
CyberRack Active Rear Door

Rack-based CW cooling for optimum operating conditions

The CyberRack Active Rear Door is a heat exchanger door with EC fans for installing on the rear door of server racks. The server rack door is swapped for the CyberRack Active Rear Door, which transforms the rack into a cooled server rack that no longer discharges any heat load in the data centre.
Solutions for CyberRack Active Rear Door
High-Density

Medium-sized and large Data Centres

IT Rooms

For use in the IT sector
Application 1: Autonomous CW cooling
Provides comprehensive cooling capacity for the rack, with no need for additional air conditioning systems

Reliable cooling even without a raised floor

No hot return air in the IT room
Application 2: Supplementing the precision air conditioning
Targeted cooling of high-density racks

Prevention of hot spots

No discharge of hot return air in the IT room
Benefits
Benefits: Flexibility
The active heat exchanger doors can be used independently of existing precision air conditioning units, or can supplement them.
As it is mounted on the rear of the rack, there is no need to change the rack's position. This cooling solution can therefore be integrated more easily in existing data centres, regardless of whether the server racks are to be retrofitted or the rack already comes with the CyberRack.
Benefits: Efficiency
Optimum operating conditions: No mixing of server outlet air with the room air, because no hot return air gets into the room.

Maximum energy efficiency thanks to high rack inlet temperatures

As the servers are cooled directly in the server rack, high water temperatures are possible, considerably increasing the number of operating hours with Free Cooling.
No mixing of hot and cold air
CyberRack Active Rear Door units are installed on the rear of the rack. The active heat exchanger doors cool the server right at the source and prevent heated air from entering the room (see illustrations below).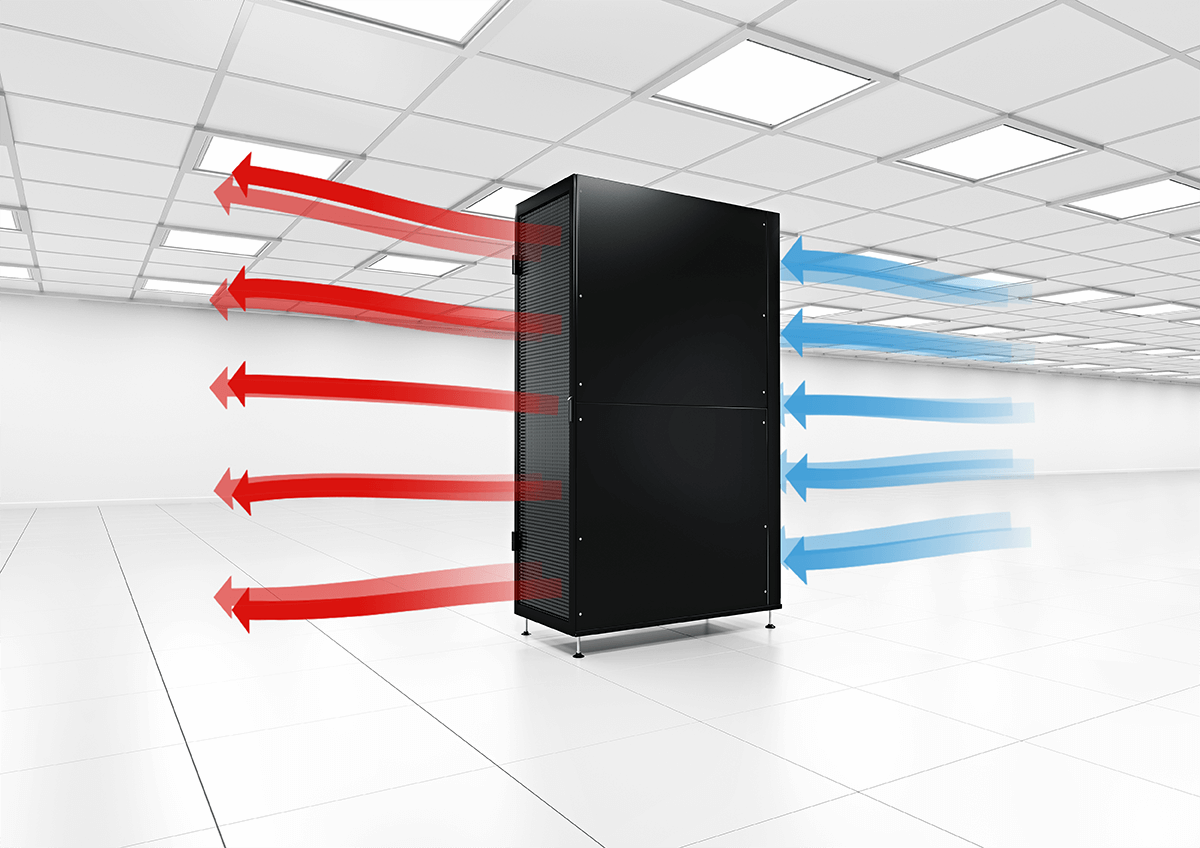 Benefits: Operational reliability
To protect the fans integrated in the servers against overpressure, the optional differential pressure control from STULZ adapts the speed of the CyberRack fans in line with the server airflow.

Separate plug-in contacts enable the simple replacement of individual EC fans.

Worldwide service
Features
Features
Return and supply air sensors ensure uniform temperature distribution under varying server load

EC fans for low electricity consumption

Targeted cooling of high-density racks

Less load on the room air conditioning, because the heat is discharged directly from the rack

For data centres with and without raised floor

Maintenance-friendly design
Pressure independent control valve
The pressure independent control valve (PICV) combines the functions of control, hydraulic compensation and flowrate measurement. The water flowrate required for cooling is set directly by the CyberRack control system.


• Low water-side pressure drops cut pump energy costs
• Lower investment and installation costs and faster start-up thanks to automatic hydraulic compensation
• The defined water flowrate ensures stable and precise control in all load states
• The cooling capacity of each individual server rack is recorded.
Controller
Technical Data
Technical Data
RBWB0
RBWC0
Total cooling capacity
kW
19.1
32.7
Airflow
m3/h
4,800
6,000
Number of fans
4
5
Dimensions HxWxD
mm
2,000 x 600 x 330


Air inlet temperature 40°C / RH 20%
Water temperature: supply = 14°C, return= 19°C
Fan: external static pressure 30 Pa
Downloads Wrapper
Downloads
STULZ CyberRack Brochure EN


CyberRack Active Rear Door
Rack-based CW cooling for optimum operating conditions


File: STULZ_CyberRack_Brochure_1805_EN.pdf

Type: Adobe PDF

Size: 1,13 MB

Language: English

Date: 2018-05-14

download