Intro
CyberRow

Intelligent airflow control – for more efficiency in rack cooling

CyberRow is an A/C unit for the targeted cooling of high-density racks. In CyberRow, innovative horizontal air conduction has been enhanced with state-of-the-art technology boasting high performance, flexibility and efficiency. Fluctuating server rack loads, space restrictions, lack of a raised floor, existing high-density server technology – these are exactly the tricky situations from everyday practice that CyberRow has been specially developed to deal with.
Solutions for CyberRow
High-density and hot spots

Small, medium and modular Data Centres

Indirect Free Cooling

Equipment rooms

Application areas: IT, telecommunications, infrastructure, facilities
Benefits
Benefits
Innovative technology and high-quality components for minimal energy consumption

Can be used with racks from any manufacturer

Complete system separation between rack and A/C unit for maximum reliability

High performance values and top results in the smallest space

Precise temperature control with two mutually independent setpoints

Available in 4 different cooling systems
Depending on required cooling capacity, CyberRow can supply up to six server cabinets.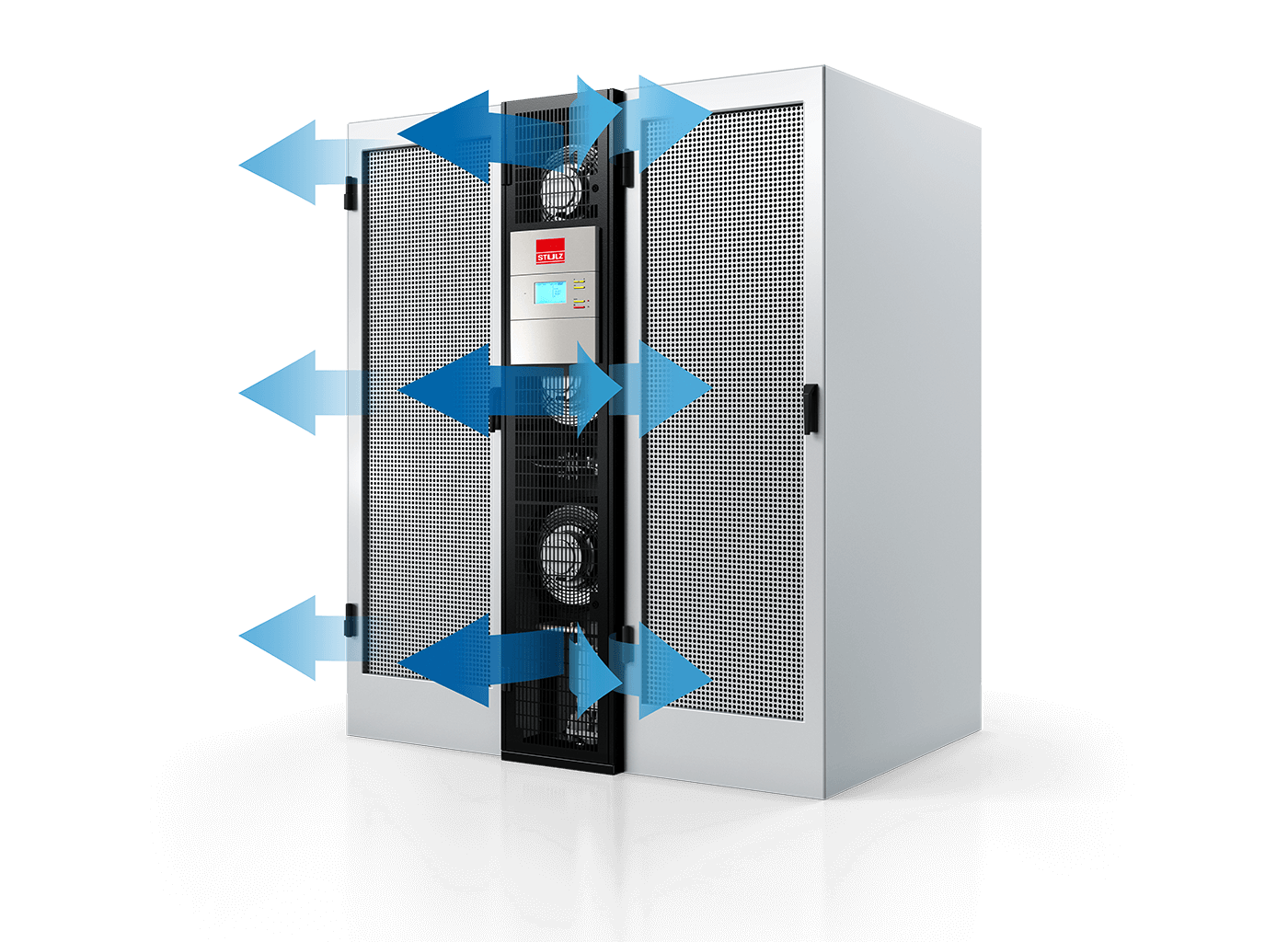 Features
Features
Front and rear maintenance access

RS485 connectivity to standard BMS systems

Zigzag G4 filter with metal frame

Powder-coated housing with doors at front and rear

Pre-cut openings as standard for water connections top and bottom

No direct cable or refrigerant connections are required between the rack and the A/C unit, allowing greater flexibility for installation in the Data Centre

Pivoting E-box (for service and maintenance)

Up to five EC fans: mutually independent, infinitely adjustable EC fans ensure maximum efficiency

EC compressor: infinitely adjustable for precise cooling capacity, and no increase in start-up current due to inverter technology

CyberRow is available in four different refrigeration systems (the AS, CW and GS systems, and the GES system with Indirect Free Cooling)

Available in 6 sizes
Gallery
Controller
Downloads
Downloads
STULZ CyberRow Brochure


Intelligent air flow control - for more efficiency in rack cooling


File: STULZ_CyberRow_Brochure_1114_en.pdf

Type: Adobe PDF

Size: 1,81 MB

Language: English

Date: 2014-11-01

download