Intro
Split-Air-3

Precision air conditioning unit for flexible installation

The Split-Air-3 is the space and energy-saving version for the reliable cooling of containers. The unit consists of an indoor and an outdoor unit, and because the indoor unit can be mounted either on the wall or ceiling, it is also ideal when space is at a premium.
Solutions for Split-Air-3 units
Shelter cooling

Modular data centres

Direct Free Cooling

For use in telecommunications, infrastructure
Benefits
Benefits
Innovative technology and high-quality components for low energy consumption

Suitable for residential areas due to its low noise

Plug and play and therefore immediately ready for connection and use
Flexibility thanks to variable air conduction
Due to the adjustable air supply via the front or underside of Split-Air-3 indoor units, they are suitable for mounting both on the wall and ceiling.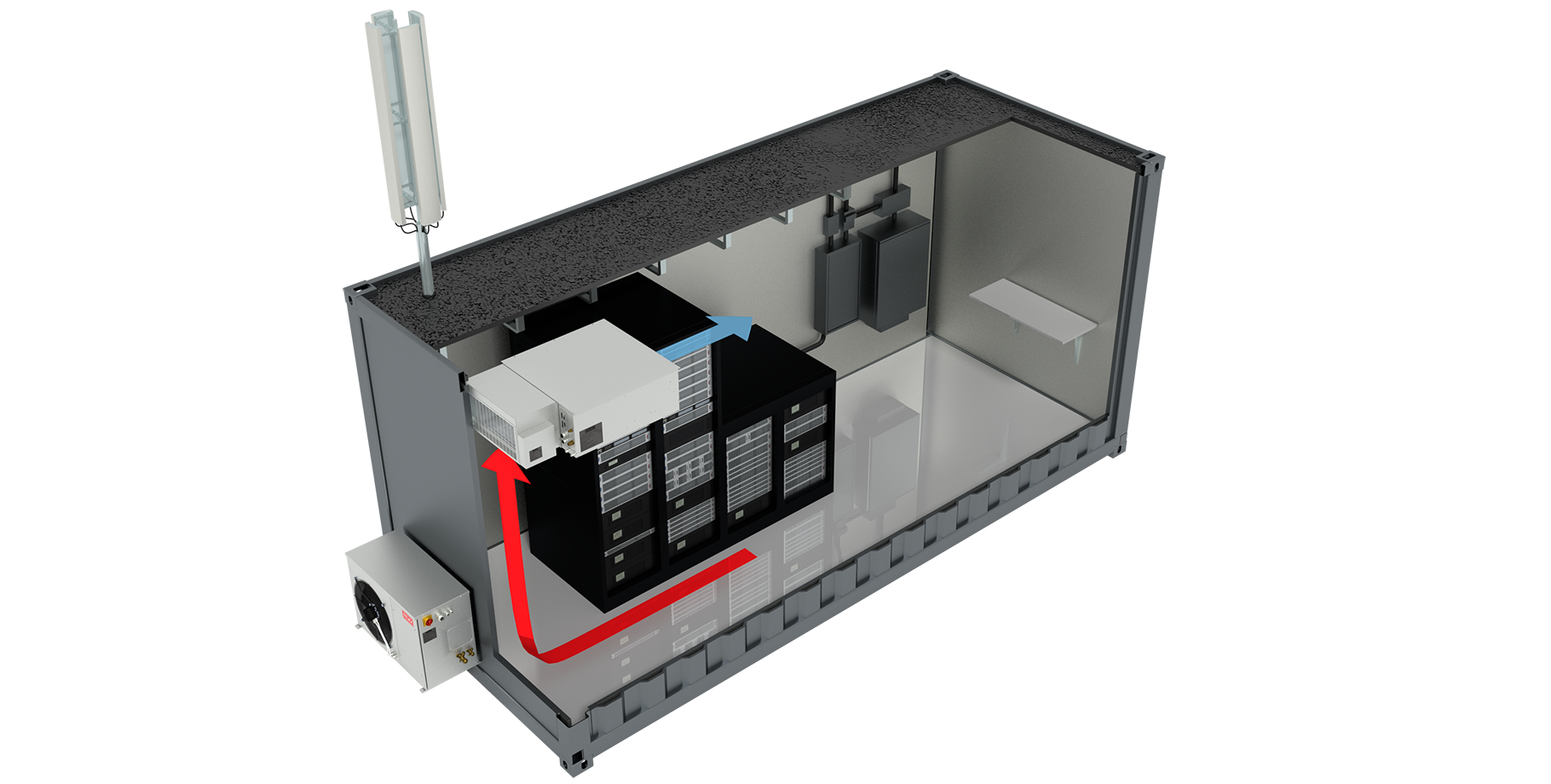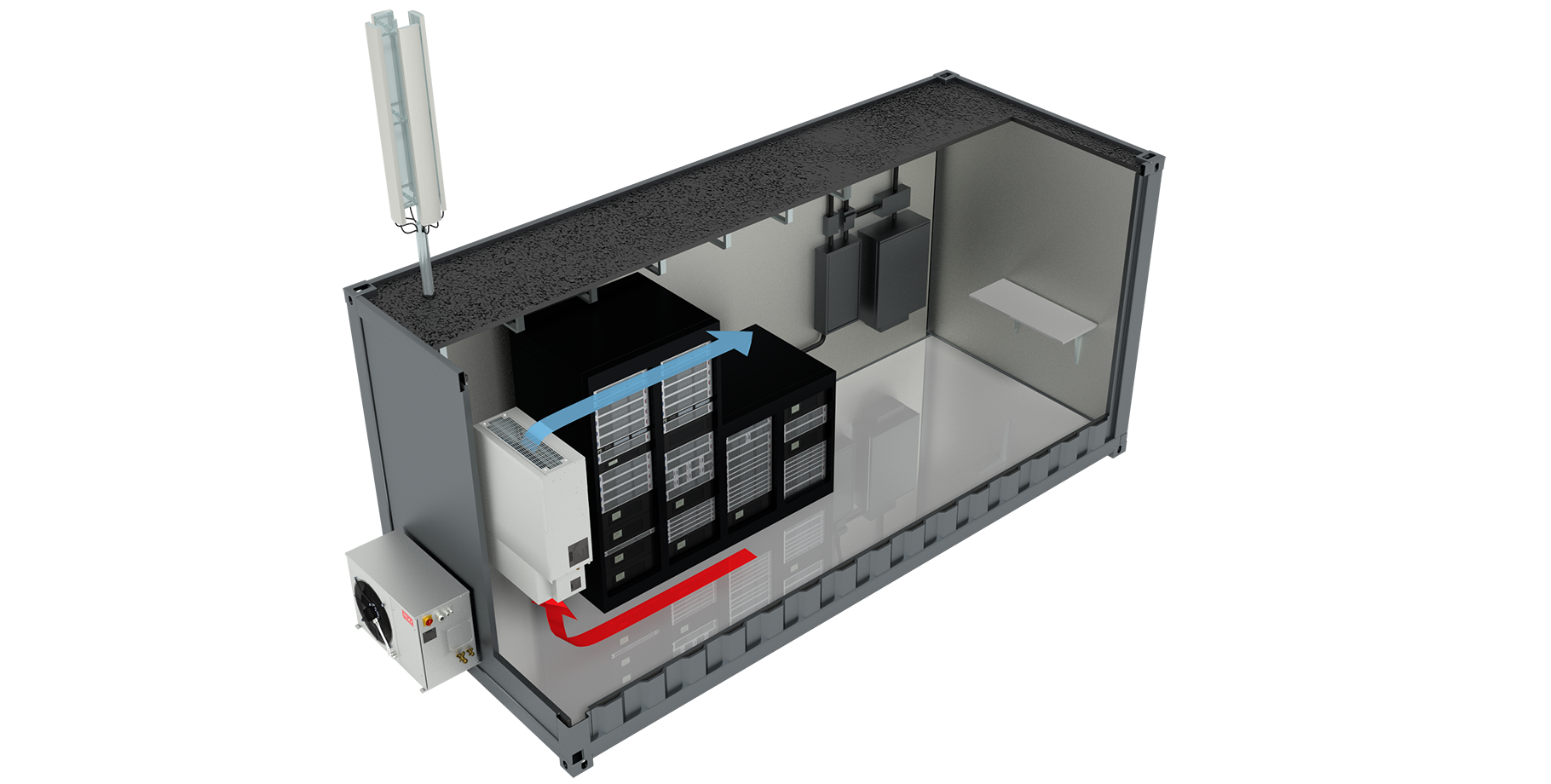 Features
Features
Factory tested, filled with refrigerant and ready for operation from the very first day

Available with EC compressor

Optionally with Free Cooling module

Condensation pressure control

Outside air conditions: -25/+50 °C winter/summer

Automatic restart after power failure

Filter monitor

Easy installation and maintenance

G3 air filter

Refrigerant R407C
Controller
Control and monitoring
The C2020 consists of a controller and an optional operator terminal. The controller controls all the functions of the Split-Air-3 unit. The operator terminal, consisting of a keypad and LCD, displays the most important operating states and alerts.
Sequencing
The C2020 enables up to ten units to be configured in a single air conditioning system. If an individual unit drops out or the heat load rises, the standby unit is switched in for additional support

The operating times of all connected air conditioning units are compared to make sure each one is used to an equal extent
Night mode
Time-controlled limitation of the condenser and evaporator fan speed for quiet operation

Energy-saving mode

The (adjustable) fan speed is automatically reduced at times when neither heating nor cooling is required
Monitoring and alarm relaying
Via BMS systems (Modbus onboard, further protocols via WIB 1000)

Nine potential free contacts are available: Alarms can be assigned a high or low priority

Via GSM modem (CompTrol SMS)
Simple configuration and software updates
Central configuration of units from a laptop

Hardware key for uploading and downloading software without a laptop and/or copying the configuration onto other units

High-pressure alarm management

In order to avoid unnecessary service callouts, high-pressure alarms are initially reset three times automatically. Then, after the fourth error message, the alarm must be manually deleted after four hours
WIB 1000
WIB 1000 is the all-in-one interface for data exchange and monitoring
Ongoing retrieval of data from the controller

Ethernet interface

Easy connection to existing building management system

Simultaneous HTTP and SNMP

Easy, fast configuration from a laptop

Compatible with all common BMS systems

Communication via SNMP and HTTP IP protocols
Downloads